It's winter, and we are all finding ways to stay safe and warm. For many of us, staying warm indoors requires adjusting the thermostat and fans in our homes then sitting back and enjoying the comfortable temperature. We often don't think about what systems have to be in place and what resources are used to provide us with this constant source of heat. I live in northeastern Oklahoma where temperatures can reach the single digits in winter, but the season is mild compared to what the states in the different parts of the country experience each year.
Source: Maclay Architects
Case Study: NRG Systems, Hinesburg, Vermont
I have been interested in learning more about commercial buildings that have been built to sustainable standards to see what strategies have worked well for their owners and occupants. One interesting project that I found in one of my resource books is the NRG Systems facility in Hinesburg, Vermont which was finished in 2004. NRG Systems is an impressive renewable energy company that was doing well at the time their new facility was under construction and has expanded rapidly since then. NRG chose to hire an integrated design team led by William Maclay Architects and Planners and energy consultant Andy Shapiro. These design team leaders showcased many years of previous sustainable design experience and were a great choice to lead the process.
Pre-Design Considerations
NRG provides products and solutions around the globe. Their workspaces need to be top of the line as well as support their company values of energy efficiency and valuing employees. The need for adequate space stemmed out of a lacking previous facility. I would venture to say that the NRG staff were excited to move out of their previous facility that my resource book called "a tin box". The former facility did not have ideal energy performance or support an ideal work environment. The new facility needed to support administrative offices, a warehouse, engineering and electronics workspaces, and necessary support spaces. NRG and the project design team determined that these needs required a facility that was close to 50,000 square feet.
Source: Sustainable Buildings in Practice: What the Users Think by George Baird (same source with image below)
Location, Location, Location
In addition to the size of the building, the site on which it would be built was a massively important consideration. A building's site determines how much sunlight hits the building and at what times of day as well as how much wind and precipitation it will receive. The building site was carefully researched and several sites were considered. Eventually, the current site in Hinesburg was selected. It is in a somewhat rural area at the foot of a hill with plenty of trees and natural views. The building faces south to enjoy as much sunlight as possible, and its orientation on the site is ideal for the wind patterns in the area.
After picking an ideal site, there were some opportunities for site improvements. NRG added a wind turbine and an artificial pond to the site. The pond helps to control stormwater runoff and adds a recreation area for staff to enjoy. The building's orientation is perfect for capturing solar energy, and NRG added a rooftop solar array as well as tracker panels along the edge of the pond.
Sustainable Design Components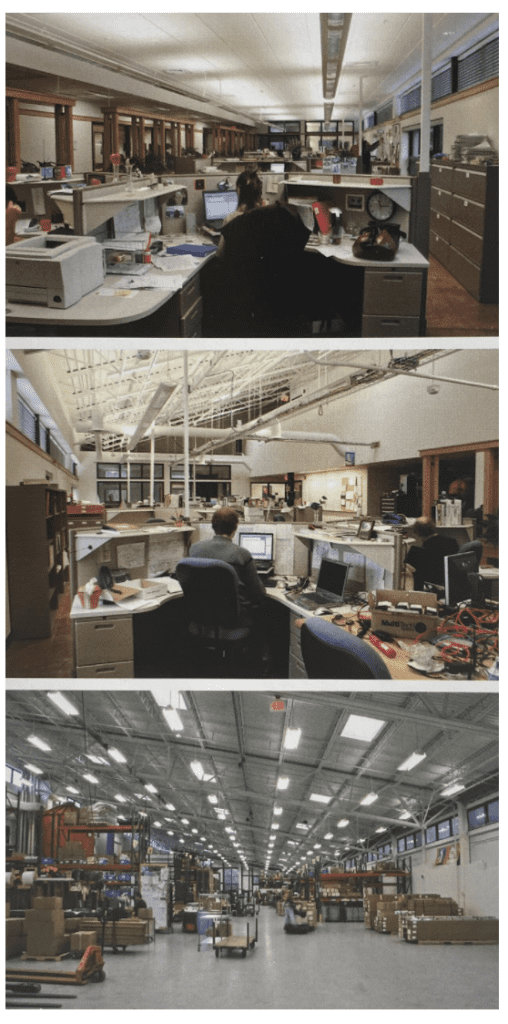 In addition to the passive solar and wind energy systems, the design team of NRG's new facility instituted plenty of windows that let in natural light. Blinds and skylights were designed to diffuse the sunlight and reduce glare.
Natural ventilation is possible in this climate, and the building utilized it effectively to offer air circulation to the warehouse area. Automatic operable windows take advantage of the prime times of day to bring in outside air. Manually operable windows give staff members control over their environments by giving them the choice to open windows when they need some fresh, moving air. A colored light system visually shows NRG staff when outdoor conditions are ideal for opening the windows. The active air conditioning and heating systems are in place when the passive systems don't meet the heating and cooling needs.
What's Next?
Maclay Architects showcases an impressive master plan for the NRG site in Hinesburg on the website that was completed in 2015 (linked below). The plan shows multiple potential placement areas for more wind and solar energy systems on the site. The description of the plan confirms that an additional building was built adjacent to the original facility and was an opportunity to improve on any of the original design aspects that needed tweaking.
The master plan lays out a beautiful mixed-used site that would include office and manufacturing buildings as well as residential sites. I hope the master plan continues to be built and developed responsibly. It is a short distance from downtown Hinesburg and could offer some additional job and business opportunities for the residents. As the planners very well know, the scenery in that part of the country is beautiful and rich.
Recognizing a Job Well Done
In 2004, the NRG Systems facility earned the Honor Award for Excellence in Architecture from the Vermont American Institute of Architects. The next year, the facility earned Gold certification of LEED V2 Certification (administered by the U.S. Green Building Council) and the Better Building by Design Award from Efficiency Vermont. I admire NRG's commitment to sustainability and renewable energy by implementing both aspects throughout their new facility. The facility is a shining example of corporate responsibility and showcases the tangible benefits and results of sustainable design.
Building Impacts
I really enjoyed researching this building and vicariously re-living the months of design process that went into it. I especially enjoy learning about examples of companies using their facilities as a way to live out their company values. In this case, it happened to be a leading renewable energy company. No matter the industry a company is in, there are ways to live out company values that have lasting tangible impacts. In the NRG process, the company staff were a part of the design process and were able to give input. This was a strategy that any company can use, and it can result in more employee buy-in and commitment and more retention. I bet the NRG staff felt more a part of the team and more invested in their employer and the work they do day in and day out. The large scale results of this building's results are an environmentally friendly facility that continues to support a company that creates opportunities for renewable energy worldwide. What an inspiration. This was the first of many more case studies to come!
Sources
Sustainable Buildings in Practice: What the Users Think by George Baird
https://www.maclayarchitects.com/portfolio-project-20-nrg-net-zero-masterplan.php